THIS MULTI-USE PAN HAS SOLD OUT 10 TIMES – AND WE TOTALLY GET IT
Have you ever used a kitchen tool that worked so well, it makes you wonder how you ever cooked without it? Cooking fads come and go, and we've certainly seen a lot of them in the past few months (we're looking at you, sourdough!) But there are some sturdy and reliable pieces of kitchen equipment that never go out of style. It doesn't hurt that this one is just as chic to look at as it is efficient to cook with. We're talking about the Always Pan from Our Place. If it sounds familiar that's probably because the fabled pan has sold out 10 times and has been feted by social media chefs galore. What's so good about it, you ask? Let's break it down.
Our Place is a mission-driven e-commerce brand from Malala Fund co-founder Shiza Shahid. The company derives inspiration from modern, multi-ethnic American kitchens to design their thoughtfully curated and ethically produced cookware. They invest in fair labor to create their products and use sustainable materials in each of them, shipped in recyclable and biodegradable packaging 100% free of plastics.
The Always Pan is a chic and functional tool that promises to replace eight cookware items: a steamer and strainer, sauté pan, saucepan, saucier, skillet, fry pan, nonstick pan and spoon rest.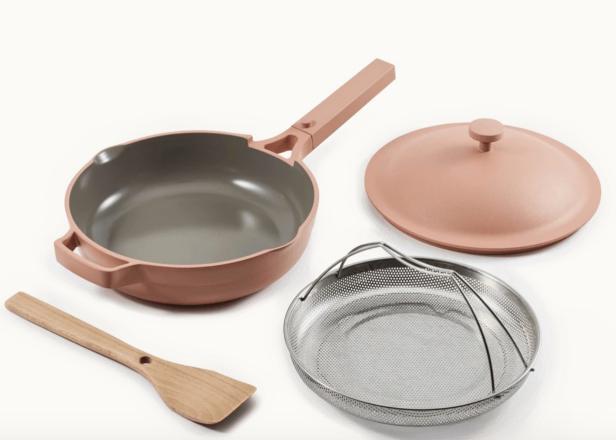 Take $10 off your order with code FOODNETWORK10 until December 8, 2020
I'll admit, when I first tried this pan I had an impulsive urge to throw out all of my other pans and commit myself to it forever. I love its smooth, nonstick surface, tall sides and tapered pour spots. The helper handle allows you to carry it evenly from stovetop to table with two hands, saving your wrist from the painful (and dangerous!) ache that comes from carrying a too-heavy pan with one hand. But the thing I love the most? The spatula rest! I am infamous in my house for using too many spatulas when cooking, simply because I can never find a place to rest them and absentmindedly toss one in the sink every time I'm done stirring. No longer. The spatula rest safely holds your spatula on the side of the pan (why doesn't every pan have one?) I love that this pan is shallow enough to scramble eggs in, yet deep enough to simmer some Sunday sauce.
Most of all, I love how gorgeous this pan is to look at. I love to take my pan straight from stovetop to tabletop and use it as the centerpiece of a family-style dinner. All of the colors (with clever names like Spice, Steam, and Char) are subtle, refined and sophisticated. At loyal fans' requests, they even launched a new lavender color in celebration of their one-year anniversary.
Where the Pan Falls Short
It's not oven safe! Although I would love to use this pan to make a Parmesan and herb frittata, it is only suitable for the stovetop. Additionally, the steamer basket sits a bit low, so be sure to monitor the amount of water used in the bottom of the pan when steaming. Be careful to use enough water so that the pan doesn't burn dry, yet not so much that the water splashes through the basket. This shouldn't be a problem when quickly steaming vegetables, but it's something to be aware of if steaming something for a longer period of time.
This thing is a breeze to clean. Its nonstick surface is made from non-toxic, environmentally-friendly, ceramic non-stick coating and allows you to wipe out even the stickiest cheeses with the help of a paper towel. Although it is dishwasher friendly, Our Place recommends using caution when putting any type of pot or pan in the dishwasher, as the machines can be rough on pans and can contribute to wear and tear over time. They recommend letting the pan cool down completely and using soapy water and a sponge to gently and thoroughly clean the pan.
The Bottom Line: Worth It
This is a fantastic investment if you're looking for a piece of durable, attractive and functional cookware, especially if you have limited cabinet space and want to clear out a few things. I was pleasantly surprised at how slick the non-stick surface was and I absolutely love the size, which is perfect for whipping up dinner for two to four people. I plan to keep this in my culinary cache for a long time, and can't wait to scoop up every color in the collection.