THE 10 BEST-TASTING PLANT-BASED PROTEIN POWDERS YOU CAN BUY
Via MindBody Green
If I were to guess, I'd say you have a better chance of finding your way home with your eyes closed than you do of finding a protein powder you like on the first buy. In other words, it's not wise and it's not likely.
So I went ahead and tried every plant-based protein powder I could find. Here are the best of the best—chosen to satisfy nearly any need you could have.
The best on-their-own protein powders.
I drink my protein shakes in quiet rebellion of the luscious, ingredient-packed smoothies that I double-tap on Instagram—protein powder and almond milk are all I need. But as I've said in the past, plain pea protein powder can be likened to chalk dust, and I'm never in the mood to eat chalk dust. As a result, I've made some concessions—I'm OK with a little coconut sugar, stevia, or one rogue ingredient if it's used in small amounts and makes my protein shake better. So if you're looking for a protein powder that doesn't require you to mix it with anything but water or plant milk, these are your best bets.
ALOHA Chocolate Protein Powder
I've raved about the chocolate ALOHA protein in the past, but it's worth reiterating that this protein is top-notch. Stevia naysayers will be happy to hear that this protein contains none of it, and chocolate lovers will revel in its rich cacao flavor. I recommend adding more water or almond milk than it calls for (I tend to add 16 to 20 ounces) as it thickens up—thickness makes for great smoothies, but I prefer my protein shakes the consistency of chocolate milk. Speaking of chocolate milk, their protein shakes come miraculously close to it—though my go-to is the coconut. To each her own.
(Aloha, $23.90 for 1.2 lb.)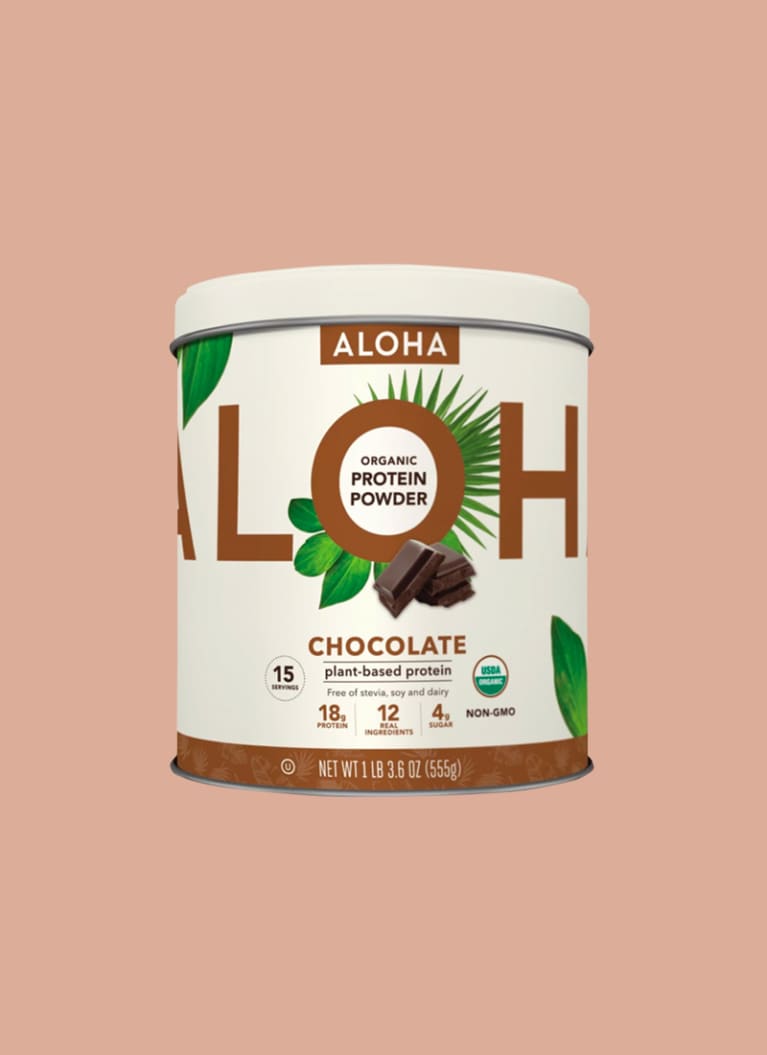 OWYN Vanilla Protein Powder
OWYN stands for "Only What You Need," and frankly, I've found their protein to be the only thing I need (besides oxygen and water). If you recognize the name or branding, it's probably because you've seen their protein shakes stacked in the refrigerated section of health-focused grocery stores—and if you haven't picked one up, you're making a huge mistake. OWYN's protein products, namely their protein shakes and meal replacements, all use their signature protein powder blend (featured here), which contains pea, pumpkin, and chia seed protein, as well as a greens blend, flaxseed, mineralized seaweed, and 1 billion CFU of probiotics. I'm not sure why you're still reading this. Get your hands on some OWYN ASAP.
(OWYN, $23.70 for 1.1 lb.)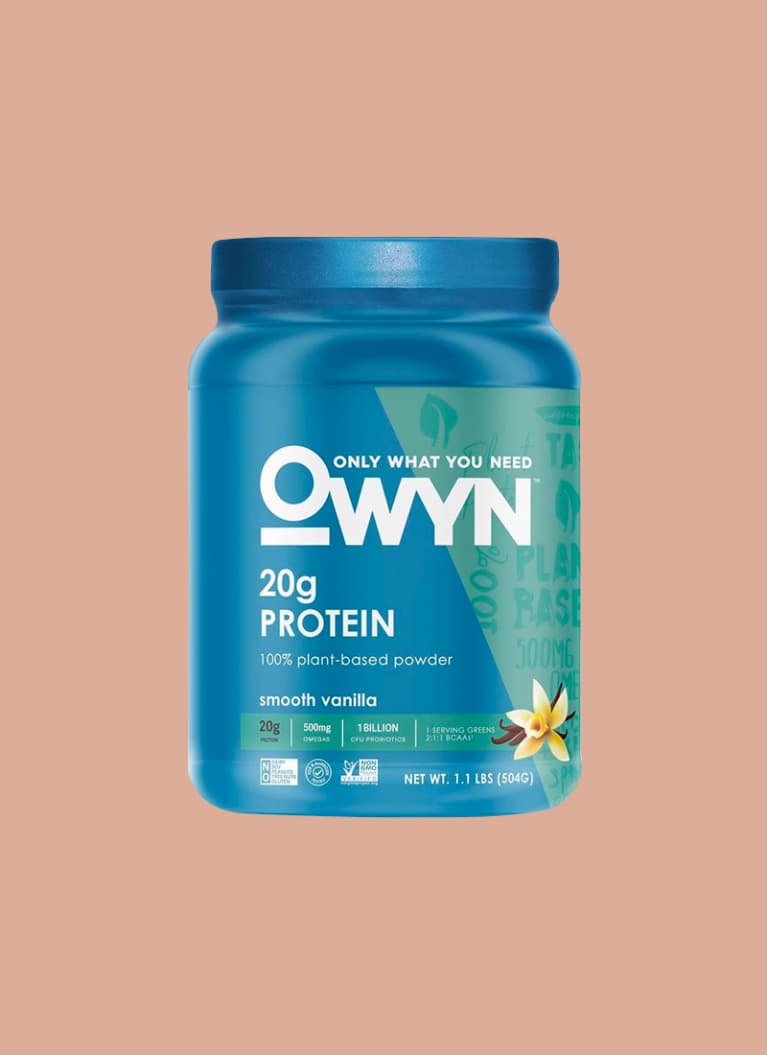 Orgain Chocolate Protein Powder
Orgain protein powders have several distinct advantages—the first being that all of their flavors are reliable and delicious, the second is that they're organic, and third, but not least, they're available at Costco. If you're someone who just can't get behind shoving spinach and superfoods into your smoothies (or even if you are), Orgain has you beat. They have a line of greens powder-focused protein blends and even one full of superfoods. Their plant-based proteins are also all vegan, contain no dairy or lactose, and are free from gluten and soy. Cost-effective and allergen-free? Don't mind if we do.
(Orgain, $26.39 for 2.02 lb.)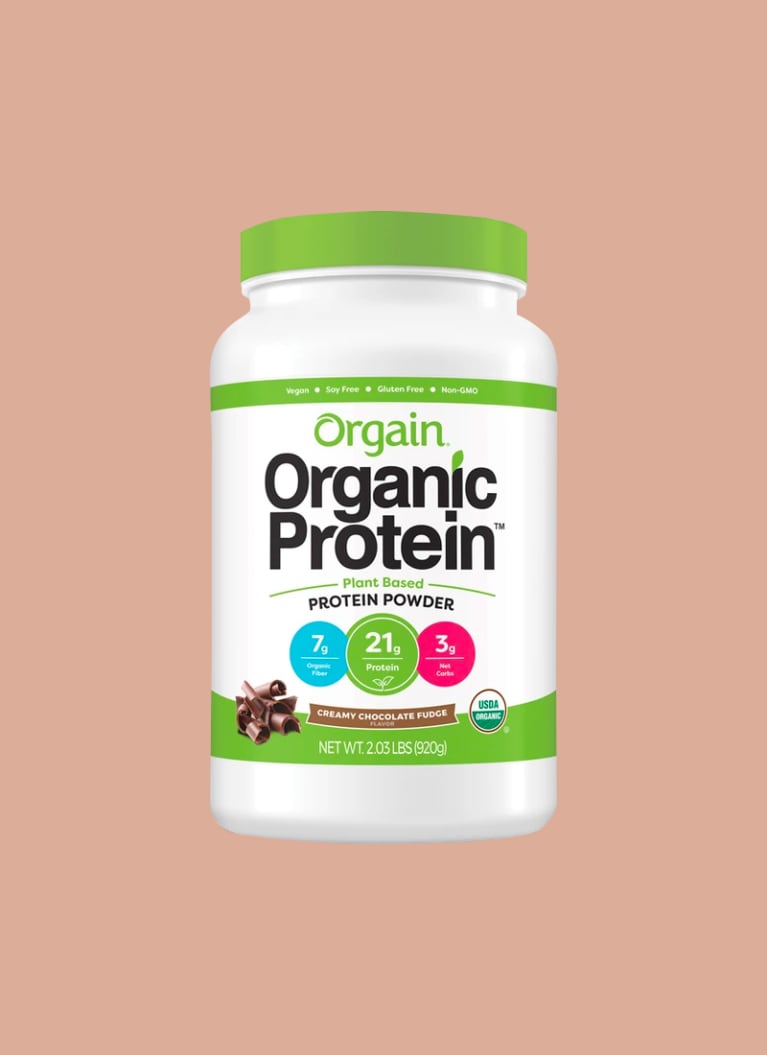 Garden of Life Sport Vanilla Plant-Based Protein
A staple brand in the realm of high-quality health products, Garden of Life has once again proved that non-GMO, plant-based, vegan, gluten-free foods can be sexy (or at least, pleasing and high in protein). Full of nutrients and amino acids, this one blends without clumps or a grainy texture into any smoothie but also fares well on its own with water or nondairy milk. One scoop yields 15 grams of protein (though many athletes seem to take two scoops post-workout) derived from peas, navy beans, lentils, chickpeas, and cranberry seeds and contains no added sugar. It also provides 2 billion CFUs of probiotics, BCAAs, and a hefty dose of molybdenum—which I'm not sure how to pronounce, but it breaks down toxins, so the more, the merrier.
(Garden of Life, $38.47 for 1.75 lb.)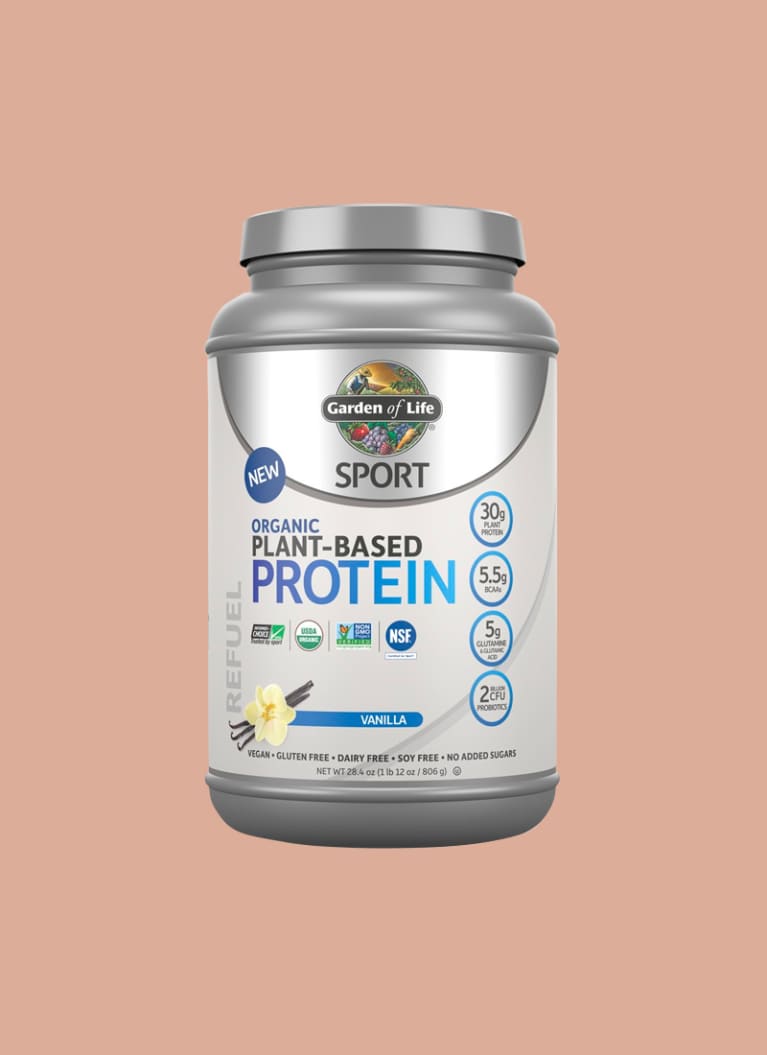 KOS Chocolate Plant Protein
Full transparency: I was targeted for KOS on Instagram a few years ago. When I saw it, I was in a dark, protein-less place, and I decided to take a calculated leap—KOS has five different types of plant-based protein in it and a pretty stellar ingredient list, so I felt it worth the risk. It was. Two scoops of KOS delivers 20 grams of protein, 3 grams of fiber, 6 grams of healthy fats (like coconut milk), and a slew of vital nutrients. Just one serving will land you with 50% or more of your recommended daily value of vitamin A, vitamin D, vitamin B6, copper, manganese, thiamin, and riboflavin. You'll even reap 33% of your iron for the day. Did I mention it tastes great with whatever you mix it with? A true feat of strength in the world of plant protein.
(KOS, $43.88 for 2.6 lb.)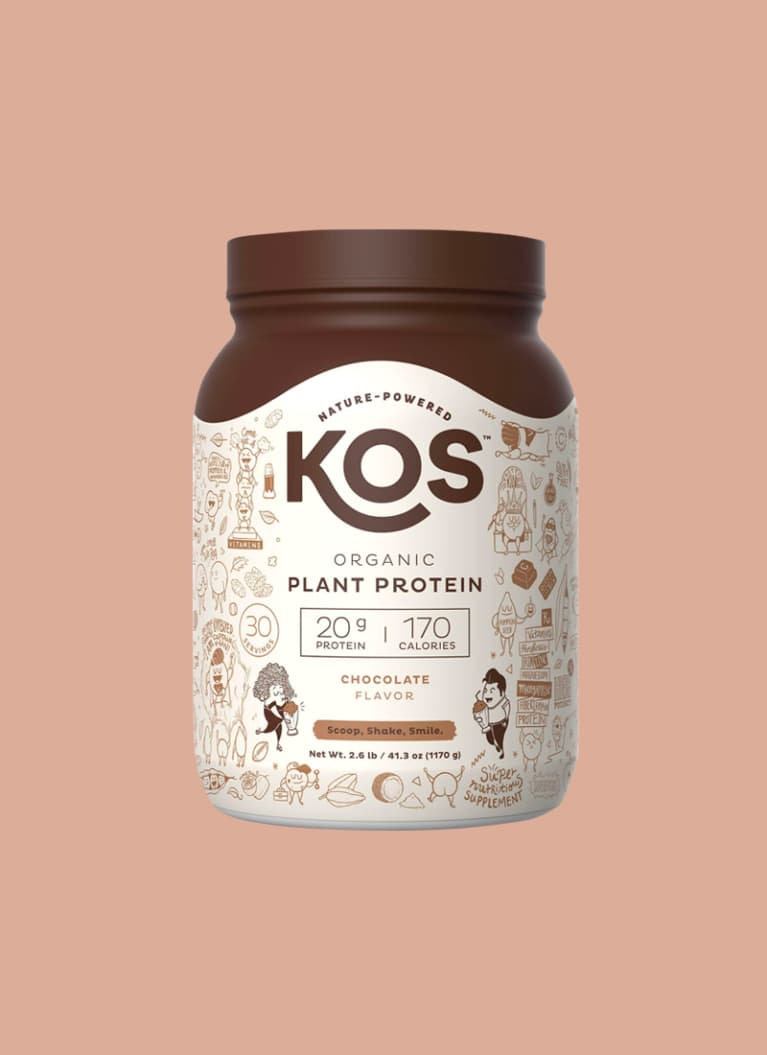 NOW Sports Chocolate Pea Protein
NOW Sports is undoubtedly a reliable brand, but their revamped plant-based protein powders blow their older versions out of the water. In addition to maintaining their signature taste, NOW's pea proteins now contain essential and branched-chain amino acids—a major plus for anyone who doesn't eat meat and is likely missing out on them. With 24 grams of protein in one scoop, it's easier than ever to get the protein you need without having to consume soy or dairy. I'm partial to their chocolate flavors, but their vanilla, vanilla toffee, and chocolate mocha are equally delicious and might even keep your sweet tooth at bay.
(NOW Foods, $24.44 for 2 lb.)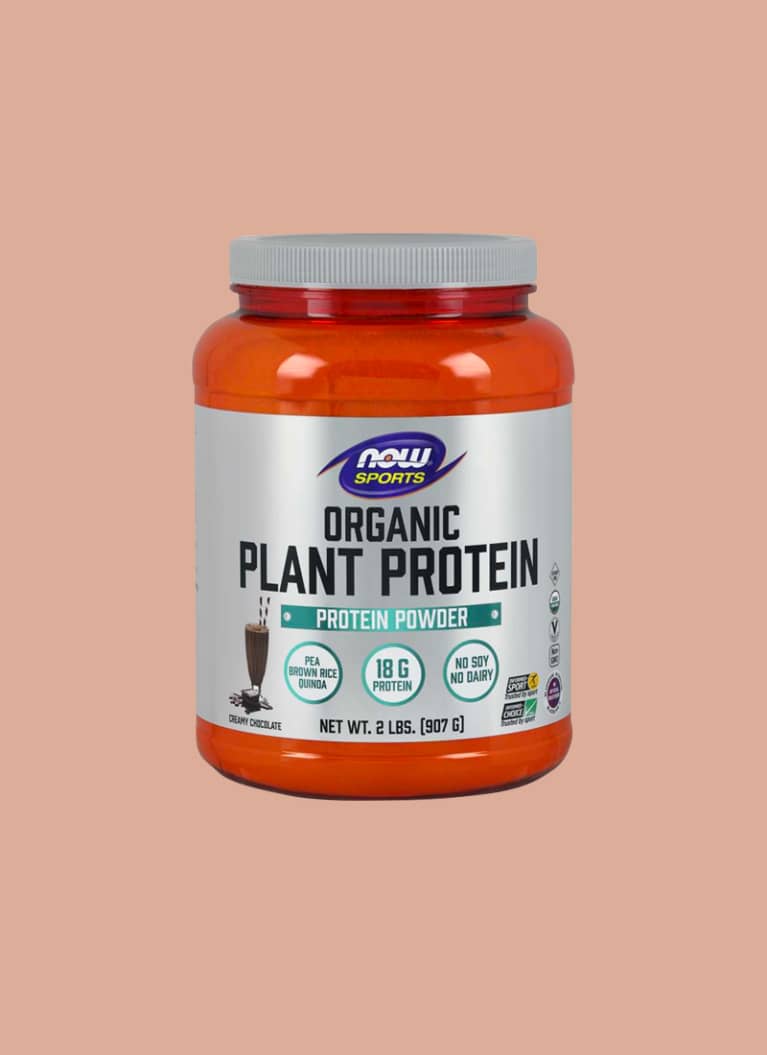 Vega Chocolate Clean Protein
Vega is often seen as the darling of the vegan world, given their long-standing commitment to always clean, always veg-friendly nutrition (they were plant-based before it went mainstream). They're also one of those companies who, just when you think they're peaking, they roll out a new and improved line of products, and we're at their beck and call waiting to try them. These Clean Protein powders are no exception, in particular the chocolate variety. A mere scoop delivers 25 grams of protein and all the amino acids you could dream of, making it a serious contender when sized up next to animal-based protein. With a smooth consistency and the ability to pair well with almond milk or water, I guess the real question is whether you're going to pass up a chance at having joy in your life or order this protein and call it a day.
(Vega, $32.75 for 1.2 lb.)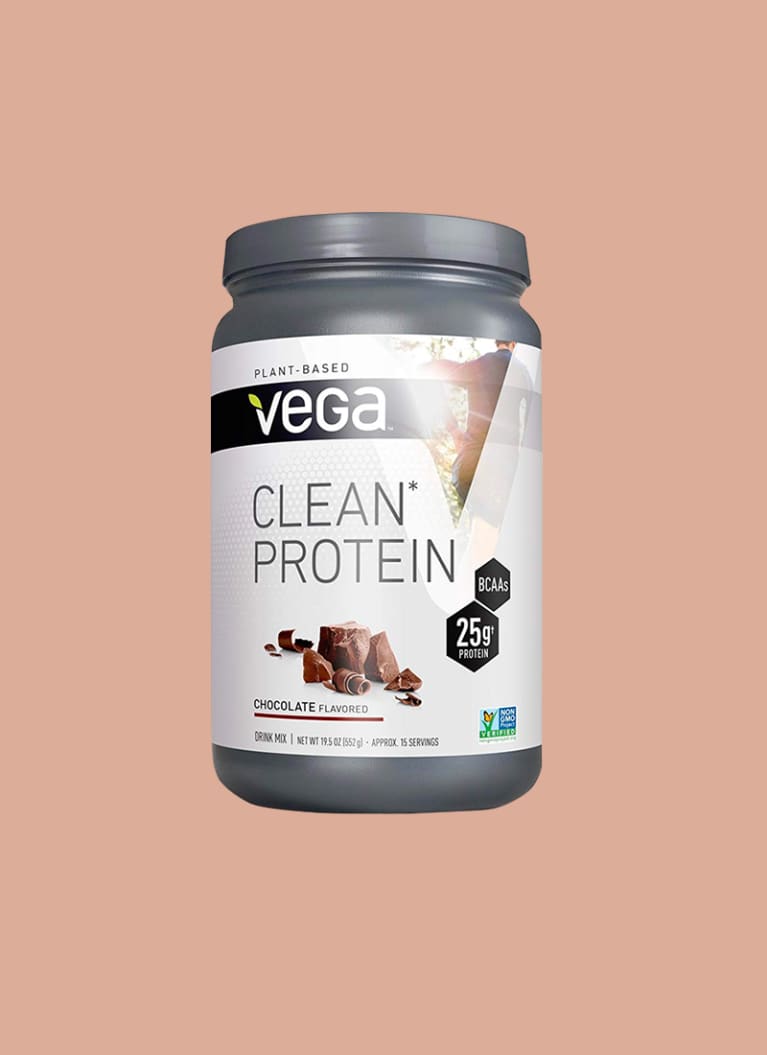 The cleanest proteins you can buy.
Say that you're a serious stickler for clean ingredients (you do you), but you still desire a protein powder—it turns out that yes, there are options for you. If I'm advising based on my own palate, I'd say they require a little more love than the others, simply because they have bare-bones ingredients. By a little more love, I mean that it'd be wise to use these as your smoothie protein powders—blend them with fruits, plant-based milk, yogurt, vegetables, whatever you please. If you are so immune to sweetness that you can drink a three-ingredient protein powder straight with nondairy milk or water, I salute you.
Nuzest Clean Lean Pea Protein
Besides being one of the cleanest proteins I've ever encountered, Nuzest should win a prize for having such a wide variety of clean protein powder options. Seriously—they must have over 50 SKUs of plant-based protein alone. While most brands offer the standard chocolate and vanilla, Nuzest takes it one step further, creating flavors like strawberry, vanilla matcha, probiotic cacao, coffee coconut with MCT oil, chai turmeric with maca, and even an au naturel option for those who want flavorless protein (that will never be me, but I try to see the appeal). Their proteins boast no stevia or sweetener, nearly 20 grams of protein, and an ingredient list that any R.D. would be proud of. And with all of those flavors (and their convenient one-serving sample packs), you're destined to find one you love. Not bound, destined.
(Nuzest, $44.95 for 1.1 lb.)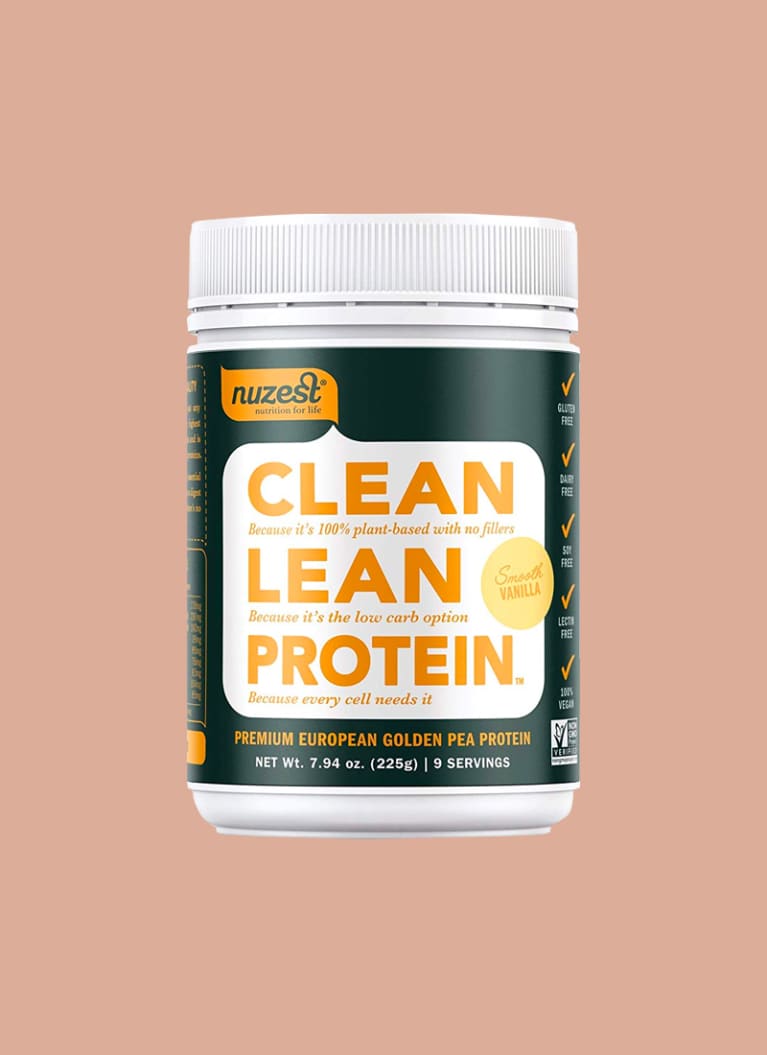 Less Naked Vanilla Pea Protein
NAKED protein could not have a more fitting name—it's the most minimalist flavored protein that exists. Their vanilla protein powder contains pea protein, organic coconut sugar, natural vanilla flavor. That's it. The amino acid profile is impressive, to say the least, plus it has 25 grams of protein per serving. Combine with a banana, some plant-based milk, and maybe a touch of something sweet, and the result is a banana whip (or milkshake if you add more milk) that's protein-packed and tastes enough like ice cream that you won't go out and buy any. If you're feeling really wild, use the chocolate. Also, 5 pounds might seem like a lot of protein (because it is), but the price per pound if you buy in bulk is unbeatable for a product of this quality. Now I sound like a salesman. Just try it; you'll thank me.
(NAKED, $14.99 for 1 lb. or $54.99 for 5 lb.)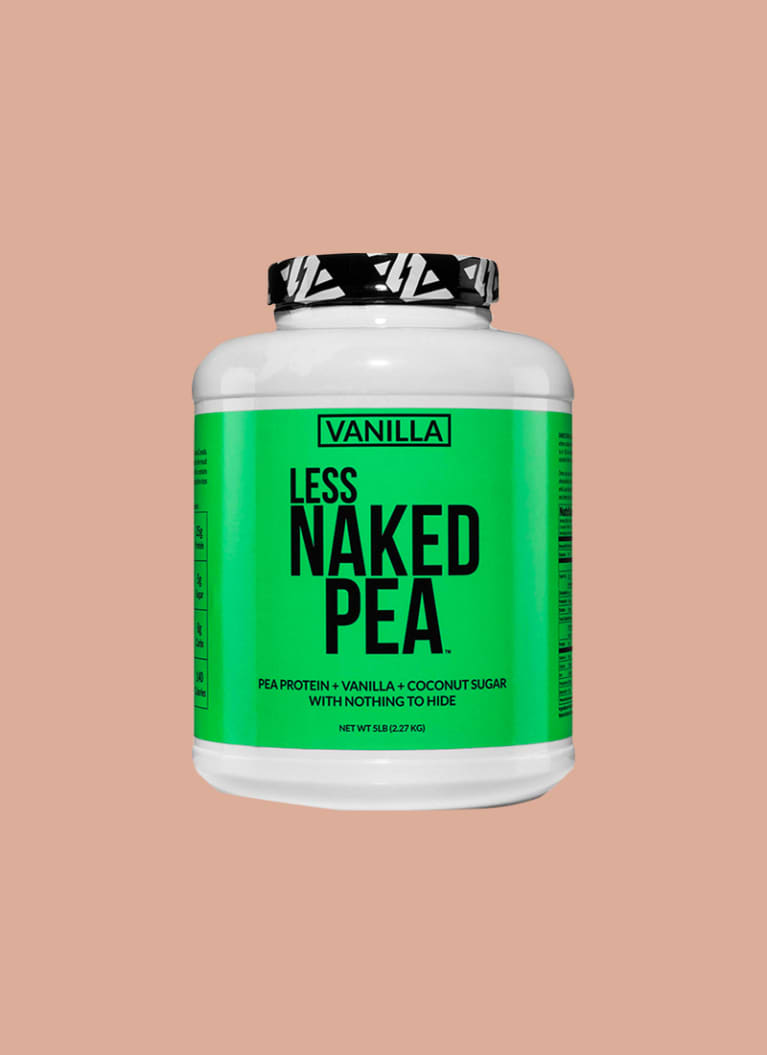 In all my years of protein pushing, I've realized there are two kinds of people: people who don't mind doing a little work for their food, and people who want the easiest, lowest effort option, always. For those people, one protein stands out.
mēle Rawberry Plant-Based Protein
Mēle is the ultimate "take on the go and do no work" protein powder. It isn't even fair to boil it down to a protein powder because it's essentially a protein smoothie replacement. A protein shake is defined as protein powder mixed with water or a form of milk, but a protein smoothie involves other ingredients, and for some, that can seem like too much work. Mēle is a dairy-free, plant-based powder that has all of the ingredients you'd typically put in a shake, all in a small, single-serving powder pack. The Rawberry (my favorite flavor) has ingredients like strawberries, banana, coconut milk, cocoa, and almonds, in addition to brown rice and pea-derived protein powder. You don't even need a blender to prepare it—just add mēle to your shaker cup the same way you would with a protein shake, and enjoy a smoothie filled with healthy fats and 18 grams of protein that'll keep you satiated for hours and give your body the carbohydrates it needs to thrive.
(mēle, $25 for five one-serving packs)