INVESTORS FROM THE DTX COMPANY, FORERUNNER, GREYCROFT, AND OTHERS NAME DIRECT-TO-CONSUMER STARTUPS THAT WILL TAKE OFF IN 2020
8Greens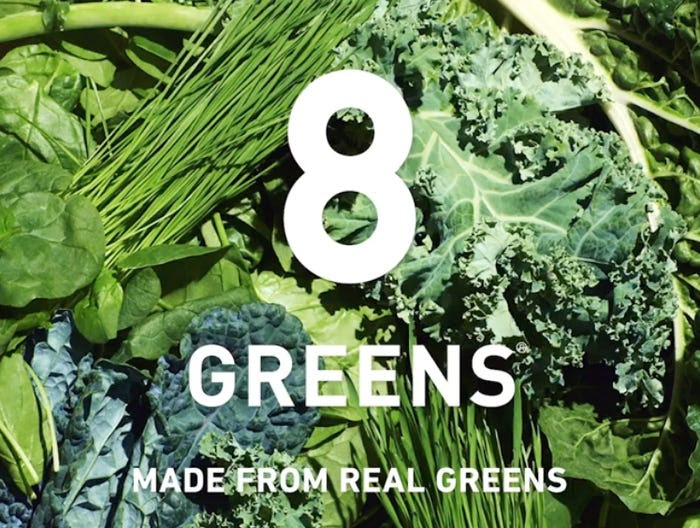 Company: 8Greens
Recommended by: Neda Daneshzadeh, partner, Prelude Growth Partners
Relationship to the company: Investor

What it is: A health supplement company that makes effervescent tablets, gummies, and other products from blended greens like spinach and kale.
Why it's hot: "87% of Americans do not get their daily minimum requirement of greens. 8Greens is made from real greens, has zero sugar and just 15 calories," Daneshzadeh said. "It's a female-founded business, and is led by CEO Eduardo Luz, the former president of grocery and chief brand officer at Kraft Heinz."
Blueland
Company: Blueland
Recommended by: Nisha Dua, general partner, BBG Ventures
Relationship to the company: Seed investor
What it is: Household cleaning company with a mission to reduce single-use plastic consumption.
Why it's hot: "Sustainable consumerism is on the rise, but consumers still value price and quality above all else. Blueland has tapped into this with a cost-effective product that's as efficacious as existing products on the market," said Dua. "They aren't just marketing themselves as a sustainable brand or refilling bottles, but have invented an entirely new form factor with their tablets — something the large incumbents have yet to do. All you need to do is add water and the Blueland tablet to the bottle."
Choosy
Company: Choosy
Recommended by: Charlotte Ross, principal, Inspired Capital
Relationship to the company: Investor
What it is: A fashion brand that creates algorithmically inspired outfits by scraping trending posts on Instagram.
Why it's hot: "Choosy represents the future of fashion — it's able to predict the latest trends with AI and machine learning technology, which have been proven to perform better than human-created styles," said Ross. "Its proprietary supply chain also enables it to create clothes made-to-order, preventing the extreme waste that the fashion industry is known for."
Co Star
Company: Co Star
Recommended by: Anarghya Vardhana, partner, Maveron
Relationship to the company: Investor
What it is: An astrology based social app.
Why it's hot: "People are increasingly looking for meaning, purpose, and connection in life. In an increasingly lonely and polarized world, an app like Co Star can help bring people closer to themselves and to the people around them," Vardhana said. "Co Star uses astrology as a way to enable people to introspect and examine their lives individually and in relation to others."
Daily Harvest
Company: Daily Harvest
Recommended by: Courtney Reum, cofounder, M13
Relationship to the company: Investor and board member
What it is: A frozen-meal delivery service that boasts healthy ingredients.
Why it's hot: "Daily Harvest has changed consumers' relationship with the kitchen's most underutilized and underestimated appliance: the freezer. I don't go to the pantry anymore to grab and go; I get what I need from the freezer and it's not only nutritious but tastes good," said Reum. "They aren't even in retail yet, and have extended their product line significantly to offer a full-suite of products."
Frida
Company: Frida
Recommended by: Mike Duda, managing partner, Bullish
Relationship to the company: No investor relationship
What it is: Direct-to-consumer maker of babycare products like booger-suckers, butt-washers, and gas-relievers.
Why it's hot: "While perhaps not en vogue to pick a brand with zero venture funding, Fridababy has taken on a high passion category where brands have not built a relationship with their end-user," said Duda."And like most potential breakout brands, this one has exceptional owners: CEO Chelsea Hirschhorn quite literally put herself out there on the importance of postpartum, and husband CMO Eric Hirschhorn has dipped into his old Burger King days to focus on culture versus performance marketing."
Judy
Company: Judy
Recommended by: Nik Sharma, independent investor
Relationship to the company: Investor
What it is: Maker of emergency kits with products like flashlights, first aid supplies.
Why it's hot: "Judy is taking on a very underserved category — there are no viable competitors to the product, except AAA and the Red Cross," Sharma said. "And they also have a unique approach to distribution that combines the traditional DTC approach of using paid media with a very intimate IRL component of Judy classes, which teach mothers, fathers and those who want to learn how to prepare for these experiences with the products."
Kangaroo
Company: Kangaroo
Recommended by: Ian Sigalow, cofounder and partner, Greycroft
Relationship to the company: Seed investor
What it is: A do-it-yourself smart home security system.
Why it's hot: "If Ring's acquisition is any precedent, Kangaroo has the potential to reach a massive market US home owners because it offers state-of -the-art home security at a fraction of the price of its competitors," Sigalow said. "Since they manufacture their own hardware from scratch, it's a fully-integrated system where everything connects through your phone."
Kin Euphorics
Company: Kin Euphorics
Recommended by: Byron Ling, partner, Canaan
Relationship to the company: Investor
What it is: Maker of non-alcoholic functional drinks with ingredients like caffeine, adaptogens and nootropics, as well as supplements like GABA, 5-HTP and rhodiola extract.
Why it's hot: "Americans are drinking less alcohol, and while alcohol companies are responding to that by creating low-alcohol alternatives, Kin Euphorics is creating an entirely new category of functional beverages," Ling said. "Their entire approach, brand positioning and packaging is designed around a lifestyle of enabling consumers to socialize in a different way at night and also take back their mornings."
Live Tinted
Company: Live Tinted
Recommended by: Hayley Barna, partner, Firstround Ventures
Relationship to the company: Angel investor
What it is: A community-centric beauty company founded by Instagram influencer Deepica Mutyala with products catering to diverse skin tones.
Why it's hot: "It's a bold and inclusive brand, and beauty industry royalty Bobbi Brown is among the investor group," Barna said. "It also expanded to international markets, and following the release of its cult color-correcting stick, will be releasing new products based on feedback from community."
Oura
Company: Oura
Recommended by: Kirsten Green, founding partner, Forerunner Ventures
Relationship to the company: Investor
What it is: A ring that tracks sleep and activity.
Why it's hot: "It's lightweight, waterproof ring tracks sleep quality, sleep stages, ECG-level resting heart rate and variability, as well as body temperature during the day and night, enabling users to optimize their health outcomes," Green said. "We are waking up to the importance of sleep to foundational health. Oura has the potential to be a hub for all things sleep."
Minna
Company: Minna
Recommended by: Jon Keidan, Torch Capital
Relationship to the company: Investor
What it is: A sparkling tea with no added sweeteners and organic, non-GMO ingredients.
Why it's hot: "We continue to see better-for-you beverages stock the shelves across major grocery chains, regional supermarkets and local corner stores — and tea is the most popular drink in the world," Keidan said. "Within the sparkling beverage category, we were yet to see a clearly differentiated and stand-out product offering. Not only is Minna an incredibly delicious, clean and refreshing drink but their team has created a product that looks great, stands out on the shelves (and online), and encompasses an element of brand, mission and community that really stood out to us. It also donates a percentage of its sales to non-profits such as Choose Love and Help Refugees that advocate for inclusion in all forms."
StockX
Company: StockX
Recommended by: Tim Armstrong, founder and CEO, DTX Company
Relationship to the company: Investor
What it is: A direct-to-consumer marketplace for collectibles like clothing and sneakers.
Why it's hot: "StockX is hot because it has nailed a DTC marketplace for the hottest collectibles across all demographics," Armstrong said. "It has mixed, trust, branding, utility and coolness together into a consumer experience that is hard to resist and fun to use — Air Jordan meets DTC."
Studs
Company: Studs
Recommended by: Caitlin Strandberg, principal, Lerer Hippeau Ventures
Relationship to the company: Investor
What it is: A jewelry and piercing brand geared at Gen Z and millennials.
Why it's hot: "Studs combines both retail and e-commerce to provide consumers with affordable, high-quality, and trend-forward jewelry. Cofounders Anna Harman and Lisa Bubbers noticed a massively underserved market in the retail piercing space, where consumer options were limited to uninspired piercing jewelry from tattoo parlors and mall kiosks," Strandberg said. "Studs' brick-and-mortar studio offers everything from CBD beverages and 'earscape' consultations to special collaborations with brands like ManRepeller. Its online experience equally conveys the brand's ethos and mission of self-expression."
Talea Beer
Company: Talea Beer
Recommended by: Angela Lee, founder and CEO, 37Angels
Relationship to the company: Investor
What it is: New York-based beer company geared at women.
Why it's hot: "Craft beers have traditionally been directed at men, but with names like 'Lizard King, 'Arrogant Bastard Ale,' and 'Raging Bitch,' Talea Beer is hoping to disrupt the industry by bringing an easy-to-drink beer to women, a market that has until now been ignored," Lee said.
Tonal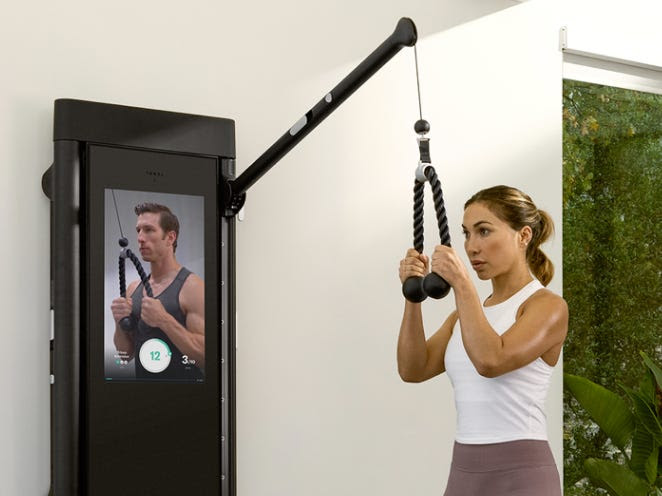 Company: Tonal
Recommended by: Peter Pham, cofounder and partner, Science
Relationship to the company: Angel Investor
What it is: A home-fitness device that combines a screen with weight machine arms.
Why it's hot: "Home fitness is getting a lot of attention because of Peloton, and Tonal is doing really well," said Pham. "Tonal has arms that pop out, and offers a full-weight gym in addition to instructors on the screen."