13 ECO-CONSCIOUS THINGS OLIVIA WILDE IS LOVING NOW
13 Eco-conscious Things Olivia Wilde Is Loving Now
The actor and director is all about sustainability, including a recycled jewelry capsule for Starling.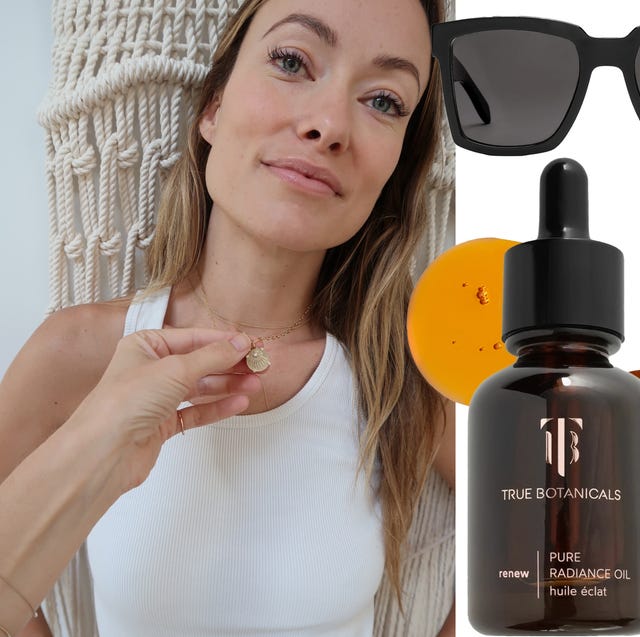 Olivia Wilde has a three-step plan for shopping more sustainably: "Vintage as much as possible. Buy less, but more thoughtful pieces. Get into pieces that are so good you want to wear them all the time," she tells BAZAAR.com.
One item you'll see the actor and director wearing and re-wearing this holiday season is a Starling Jewelry gold-and-diamond sundial charm, a piece she and Conscious Commerce cofounder (and close friend) Babs Burchfield created for the brand. The delicate charm, whose proceeds will benefit the St. Luke Foundation for Haiti, took months of design sessions to perfect—both in person and over Zoom. All that effort led to a modern jewelry milestone: It's one of the first pieces on the market made with 100 percent recycled materials. "We got so into it, we got matching little Starling-like tattoos on our fingers as our North Stars!" Wilde says.
Designing with reused materials is one part of a bigger philosophy for Wilde. "For us, shopping sustainably means being conscious about what and how we are consuming, and being intentional about both the environmental and social impact." To celebrate her eco-conscious capsule with Starling, and to help us all shop a little better, Wilde is sharing the 13 sustainably made pieces she's loving now. This list will convince you of what Wilde has known about shopping all along: You can "see sustainability as cool, sexy, chic, and innovative—not a crunchy duty."
"Bringing this charm to life was a labor of love during quarantine times. The charm, a sundial, is a symbol of seeing what is behind us as a light that guides the way moving forward. Together with Starling, Babs and I designed and created this piece using only certified recycled diamonds and certified recycled gold (or silver). It is an insanely chic, and sustainable, piece of jewelry. You will never want to take it off!"
70s High-Rise Bootcut Jeans
"Re/Done nails the fit every time. The bootcut '70s jeans are made from upcycled denim, giving new life to materials that would have otherwise gone to waste."
"I love this line of Trash Transformed. This is Nike's lightest shoe in weight and in carbon footprint."
"Take everything off, besides your sundial charm, and lather up! True Botanicals is such an inspiration to me. They focus on the cleanest ingredients that you will want to soak all the way up."
Frayme Medium Shoulder Bag
"Stella can do no wrong. Am I right? She sticks to sustainable practices and keeps it cool."
"Keeping up with keeping it fresh and clean. These days, all I need is a little foundation and to get my brows going in the right direction."
Blue Hill Stone Barns Gift Certificate
"Heaven is a place on earth, and it's called Blue Hill Stone Barns. A farm-to-table experience where you actually experience the ingredients in your meal. You will leave with the education about the timing of a carrot harvest that you never knew you needed."
"Made in the USA using only sustainable wool. I love this hat because we're all just modern women doing our best to be Diane Keaton."
"The sweetest little bling ring for your pinky. Babs and I both wear the North Star Signet Ring in certified recycled yellow gold with a diamond and have not taken them off for months!"
"Industry of All Nations checks all the boxes. Made with 100 percent alpaca fiber by a Bolivian co-op of farmers, manufacturers, and knitters, this is a hypoallergenic piece, so consider it the 'doodle' of your closet."
"Maison De Mode has become my go-to for sustainable shopping. I swoon over brands that have their seal of approval. I discovered my love for Westward Leaning, a high-end glasses brand that gives a portion of the proceeds of each sale away to a cause they believe in."
Joedy Signature Crinkle Shirt
"Frank & Eileen is a women-owned and women-led brand, which tracks, because they are so smart and have made everything machine washable."